Tony Stewart
Published on July 17th, 2009 | by Ron Ripple
123
Tony Stewart – My pick to win this weekend in Indy!
Tony Stewart might be one of the most talked about drivers of the year.  He started the season with speculation that he would only be middle of the pack, but he's surpassed everyones doubts and has done something not many drivers could have imagined.  He's created a winning team straight out the box… yes it was an existing team, but he took it from zero to hero.
Tony Stewart is going to dominate at Indinapolis this year and drive around Dale Earnhardt Jr as if he was tied to Terry Labontes car.  Oucchhhhhhh… sad but true! My boy Tony fell asleep last year but he's wide awake now, trying to make up for lost time.
I'm not going to brown nose too much on my boy Tony… because I have a feeling the boy is starting to take a turn in his "social life."  I've noticed he's somewhat lost his badboy attitude, and he's starting to pick up some of Jeff Gordon's bad habbits.  Now I'm only speculating this, but I have a feeling the man is starting to drink white wine.  Who drinks white wine  other than sissy boys?  Is it because he's a team owner and he's just trying to follow a trend?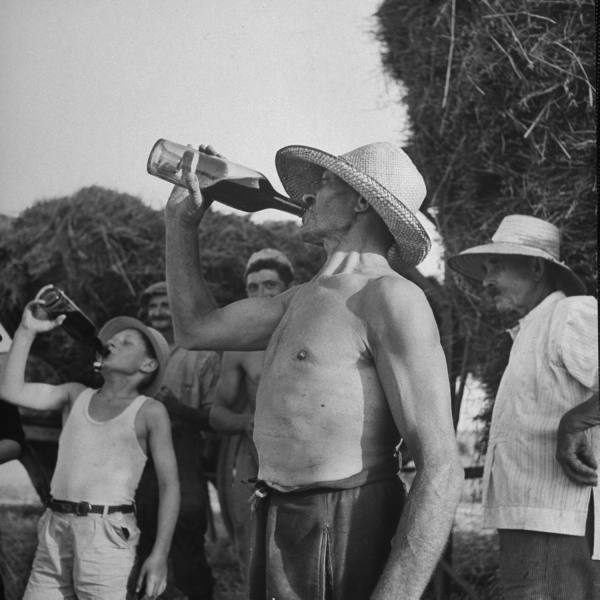 This is how a real man drinks wine!
Anyway… Tony Stewart is going to dominate this weekend in Indy.  Take your picks my fellow Ron Ripplers… whoever makes the right pick this weekend will get a Ron Ripple gift certificate to 7-11… and there will be enough money on it to buy a 12 pack of Budweiser.